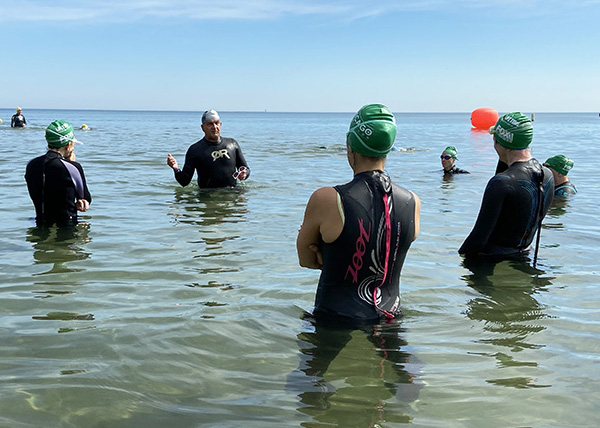 July 2, 2020
It was small. It was safe. It will happen again.
I've been part of the national endurance community for nearly 20 years, having managed some of the world's largest triathlons and most successful marathons. Never did I imagine that losing money producing a 30-person, urban event during a pandemic would be so invigorating.
The Challenge
Like every other event marketplace on Earth, the Chicagoland endurance community was sidelined in March. While we watch the foundations of the event industry crumble, we recognize something even worse: we're powerless to serve the surge of new athletes. Experts believe a new running boom is here. Bicycle sales have skyrocketed. This Great Pause seems to have softly whispered the importance of remaining active, getting outdoors, and being together. We've heard that whisper before.
Back in 2012, our team developed a community-focused open water swim program in the heart of Chicago. Over the years, we introduced more than 12,000 swimmers to Lake Michigan and created the single-largest feeder of new athletes into the Chicago Triathlon.
We love swimming, especially the profound sense of accomplishment and a childlike exhilaration that comes as one finishes their first open water experience, but nobody was doing it. Illinois' pools had only recently re-opened, and Chicago's beaches were still off-limits, so we sought the feasibility of offering our familiar open water swim programming elsewhere, and to do it safely within a group setting – critical for the open water.
The Concept
We first searched for swim-friendly venues beyond Chicago's borders, those who were legally able to host a comparable event. We then worked with local healthcare experts to develop the highest of safety protocols, integrating details into a survey designed to measure the community's interest in participating in open water swim events during the Covid-19 pandemic.
The Data
We quickly generated 166 responses. An overwhelming majority (92%) indicating a "good" amount (or more) of interest in being part of a swim event considering safety protocols. Hammond, Indiana was the most preferred venue and Saturday morning the preferred timing. Our best indicator of demand came from the 147 (89%) respondents who shared emails in order to receive additional news. While small in nature, the survey provided enough information to move forward. We gained support from USA Triathlon, local retailer Urban Tri Gear, race producers like Leon's and Life Time, and the City of Hammond. This soon became a community-wide initiative.
The Response
Thirty people registered. Yes, 30. Initially, this was a tough pill to swallow. After vetting interest and gaining so much buy-in, how could this happen? It didn't make sense. We reached 16,000+ targeted social impressions (64% organic) and drove nearly 2,000 visitors to the web site. In the end, only 11 of the original 147 respondents registered with us. Numbers aside, our team was committed to seeing this through.
The Event
The waters were calm and the conditions ideal to produce our smallest yet most complex event ever. As instructed, participants arrived wearing masks and were screened upon check-in. Athlete packets were distributed with nitrile glove. Participants were guided to a self-gear check area to safely gather while signage and PA announcements reinforced instructions. Swimmers were briefed at a distance prior to entering the water, at which time they were allowed to remove their masks. Life guards and supportive coaches monitored the waters. Swimmers kept their distance throughout the session. Staff immediately provided new masks as swimmers exited the water. Participants departed the event venue through a separate exit area. It wasn't flawless, but it worked.
The Reaction
As participants departed the venue, a vast majority made it a point to communicate their appreciation to staff. Several offered testimonials and even impromptu interviews in support of their positive experience and to encourage future events. Perhaps the most prominent indicator for event's success lies in the net promoter score (NPS) – a satisfaction index measuring loyalty and a willingness to recommend the event to others. After two days, our preliminary NPS score is +75, a powerful metric and something to warrant future events.
While we operated in a fully-supportive bubble, the reaction from the outside world was a bit different. The City of Hammond (81,000 residents) promoted the event on a live social media stream. That post achieved 4,800 impressions and earned dozens of remarks, both supportive and discouraging, about the event. Many of the negative comments referenced our disapproval in lieu of growing infection rates and personal connections to the virus. We didn't anticipate the negative feedback, but we certainly understood the optics for non-familiar viewers.
Lessons
There are so many findings from this entire experience. Here are our most obvious:
Continued Uncertainty: We once lived in a world where, within ~5% accuracy, we could easily gauge demand for next year's event long before it ever happened. Historic participation counts and new feasibility studies may now be useless indicators of future patronage, as the best intentions may not translate to specific action. In our case, producing another event will demand a minimum commitment threshold.
A Need for Thick Skin: Event organizers will operate under a no-win situation in the forseeable future. Regardless of the depths of safety protocols, if they successfully fight to hold an event during this pandemic, people will be mad. If they don't hold a race, people will be mad. Your most genuine intent will be challenged. Your most compelling reason for "why?" will be instantly denounced.
The toughest part: they're right. Who are we to argue against our proponents' pain of losing a loved one to the virus, or having to endure endless hours grinding away in an ICU? In their eyes, we're adding to the problem. Event operators will need to be sensitive and vulnerable to the views of outsiders while remaining confident and focused on their participants' experience.
On the other side, public assembly is slowly being reintroduced to the world. Outdoor dining and public gatherings are already happening. As states continue to follow their own reopening guidelines, events that mandate masks, ensure proper distancing, and maintain small group counts can set a higher standard for safe community interaction.
Unprecedented Connectivity: We were outside. We were engaged in recreational activity. We were together. For many, this was their first public event since March. Their trepidation upon arrival was apparent. Their sense of accomplishment upon departure was exceptional. Everyone who attended (our team, the venue staff, the coaches and especially the participants) were ecstatic to be part of an actual live, in-person, event. We were connected to humanity once again. It was so apparent, so visceral. Interestingly, our team's initial feelings of disappointment had long vanished. While we may have only hosted 30 participants, we know that we successfully proved that in-person events were possible, and the positive impact would be noticed by exponentially more. These early adopters will share their experience, inspiring others to break through their own barriers and be part of something similar in due time.
Where Do We Go From Here?
Much like the virus, the events industry needs to evolve.
As time goes by, people will slowly grow more comfortable (and/or fatigued) living in tandem with this virus. While individuals will choose their own set of rules and protections, the events industry must unify to set and enforce the highest of scientifically-approved safety standards while simultaneously proclaiming that public assembly is critical to society's well-being.
Those who can find pragmatic and creative approaches to safely gathering, adopting acceptable inconveniences and slight modifications to old standards, will thrive in this new reality.
In Real Life. It has never mattered more than it does right now. When the time is right, organizations who have done their homework will have an unfair advantage when it comes to bonding with customers and making a positive impact in their marketplace.
Click here to watch the video recap.