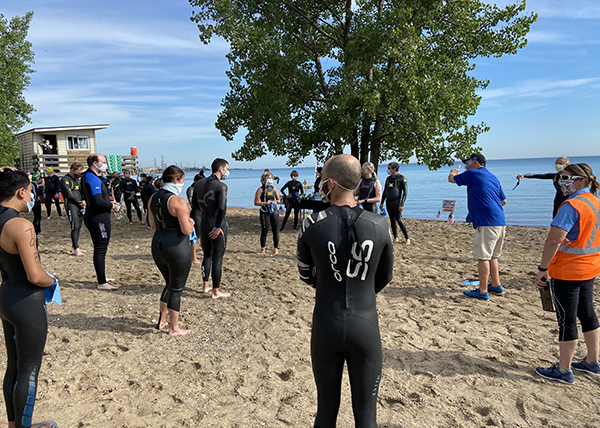 August 9, 2020
The Background
During my time at the Center for Exhibition Industry Research (CEIR), I quickly fell in love with the events industry. Our offices were in McCormick Place, which provided me unparalleled access to hundreds of events. When the opportunity arose to join the Events Team at LaSalle Bank and breathe new life into the Chicago Marathon, I jumped at it.
Never did I imagine the role at LaSalle would lead to a career in the endurance events industry, where I managed some of the world's largest marathons and most successful triathlons (and became an Ironman competitor myself). After 17 years of specializing in sports marketing, I left my dream job last fall to pursue another — launching a marketing agency focused on in-person experiences. My timing was terrible. COVID-19 sidelined everything.
The Opportunity
Chicago has always drawn a massive endurance audience. Beginning in March, as organizations started canceling local athletic events, I noticed an even greater demand for physical activity. Local running trails were more crowded than ever. Bicycle sales skyrocketed. Remaining active, getting outdoors, and being together seemed to be more important than ever.
Remaining active, getting outdoors, and being together seemed to be more important than ever.
As a long-time triathlete and coach, I asked myself "what about swimmers?" Chicagoans love swimming, especially the profound sense of accomplishment that comes from swimming in open water. Thanks to COVID-19, beaches were off-limits and pools have only recently opened to limited capacity.
The Concept
This lack of safe, supportive swimming outlets felt familiar. In a former role, I was tasked to stimulate new demand for the historic Chicago Triathlon. Market research uncovered that open water swimming was the strongest deterrent for new participants. To lower barriers to entry, my team and I developed learn-to-swim programs in Lake Michigan. Since 2012, we supported more than 12,000 swimmers, created the largest feeder of new athletes into the event, and grew overall event participation by 20%.
Given that success, and in light of recent COVID-19 restrictions, I sought to produce a similar swim program, and to safely do it within a group setting – critical for open water. First, I searched for swim-friendly venues beyond Chicago's borders, those legally able to host comparable events. Then, I worked with local healthcare experts to develop the highest of safety protocols, integrating details into a survey designed to measure the community's interest in participating during the pandemic.
The Data
The survey generated 166 responses. An overwhelming majority (92%) indicated a "good" amount (or more) were interested in attending with safety protocols in place. Hammond, Indiana was the most preferred venue, and Saturday morning the preferred timing. Our best indication of demand came from the 147 (89%) respondents who opted-in to receive additional news. While small in nature, the survey response was positive enough to warrant moving forward.
Once registration opened, the event quickly became a community-wide initiative. My team gained support from local retailers, influencers, fellow race producers, USA Triathlon, and, most importantly, the City of Hammond. We reached 16,000 targeted social impressions (64% organic) and drove 2,000 visitors to the web site. The City of Hammond (81,000 residents) promoted the event on a live social media stream. That post achieved 4,800 impressions and earned dozens of remarks, both supportive and discouraging.
The Surprise
In the end, 30 people registered. Yes, 30. After vetting interest and gaining so much buy-in, how could this happen? It didn't make sense. We limited capacity to 300 (pre-pandemic we would have expected 1,000 participants). In the end, only 11 of the original 147 respondents enrolled. Despite the low registration count, our team was committed to see the event through.
After vetting interest and gaining so much buy-in, how could this happen? It didn't make sense.
The Event
Waters were calm and conditions ideal for this small, yet complex, event. As instructed, participants arrived wearing masks, were screened upon check-in, and received sanitized swim packets. Participants were then guided to a self-gear check area, where they were encouraged to gather with social distance in mind. Signage and PA announcements reinforced safety protocols throughout the event. Just before entering the water, participants were allowed to remove their masks. Staff then provided new masks to participants as they exited the water and were guided to the exit.
As participants departed, a vast majority proactively communicated their appreciation. Several offered testimonials and even impromptu interviews in support of their experience and to encourage future events. Perhaps our most prominent indicator of success lies in the net promoter score – a satisfaction index measuring loyalty and willingness for referrals. Ours measured +75, a powerful ranking to warrant future events.
Beyond our bubble, the outside world reacted differently. Many of the negative comments emphasized disapproval in lieu of growing infection rates and personal connections to the virus. We didn't anticipate the negative feedback, but we understood the optics for non-familiar viewers.
We didn't anticipate the negative feedback, but we understood the optics for non-familiar viewers.
The Lessons Learned
There are many findings from this experience that likely apply to all events produced in the weeks and months to come. Here are a few:
Uncertainty: We once lived in a world where, within ~5% accuracy, we could easily gauge demand for an event 365 days out. Historic participation counts and feasibility studies may no longer be reliable indicators of future patronage. With a rapidly changing environment, participation could fluctuate wildly. We need to expect the unexpected and be diligent, yet flexible. Communication with staff, suppliers, and participants is essential as changes may need to be made at any moment.
Critics: Event organizers are not often accustomed to people speaking of them with disdain or criticizing the fact they are producing an event (we certainly weren't expecting it). Organizers may now operate under a no-win situation for the foreseeable future. If they successfully fight to host an event during this pandemic, people will be angry and say so. If they cancel their event, people will be disappointed and say so. Their most well-intentioned motive will be challenged. Their most compelling reason for "why?" will be denounced. Those who move forward will need to be sensitive to critics while remaining confident and focused on the participant experience.
Press: Publicity influences event participation, especially public athletic events. Negative publicity harms them. I've represented billion dollar brands that have drawn intense media attention over the years. The most repeated question asked by reporters: "How dangerous is this for your competitors?" My response always started with "…the safety and security of our participants is paramount…" and concluded with "… with robust contingency plans directed by all relevant local, state and federal agencies." Fortunately or unfortunately, this small event didn't draw media attention, but it could have and we were prepared. You never know what angle the interviewer has until the camera roles, but it's a safe bet that danger is the hot media topic for the immediate future — and danger is no longer specific to just athletic events. Organizers are well served to appoint a single spokesperson with a well-rehearsed message they want to convey with each interview. Investing in a professional media training session can help avoid awkward on-camera moments.
Unprecedented Connectivity: For many participants and staff, this was their first public event since March. Their trepidation upon arrival was apparent. Their appreciation upon departure was obvious. Our team, venue staff, and especially participants were ecstatic to be part of an in-person event that established such a strong sense of belonging for everyone involved. Quarantines, shelter-in-place orders, and Zoom meetings have taught us is that humans need face-to-face interaction.
Our team, the venue staff, and especially participants were ecstatic to be part of an in-person event that established such a strong sense of belonging for everyone involved.
The Epilogue
If the events industry is going to rebound and return to greatness, it needs to evolve.
As time goes by, and individuals grapple with their level of risk tolerance, the events industry must unify to set and enforce the highest of scientifically-approved safety standards while simultaneously proving that public assembly is critical to society's well-being.
We must also be patient with those who aren't quite ready to participate. Producers and attendees alike must find the delicate balance between advocating for others' involvement yet respecting their decision to remain absent.
Finally, we need to be daring. Producers who do their homework and find creative approaches to safely gather, whether adopting acceptable inconveniences or modifying old standards, will thrive. Forward thinkers will have advantages when bonding with customers and making positive impacts in their marketplaces.
Alignment and unity of purpose among the entire industry has never mattered more than it does today.