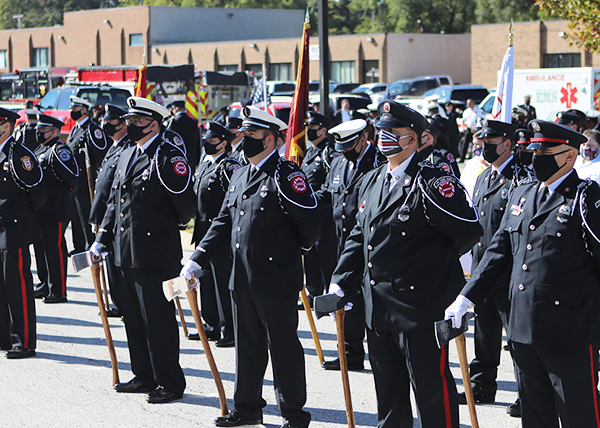 January 13, 2021
When Public Assembly Conflicts With Public Health Mandates
A few months ago, we received a call from a friend who works as a fire chief in suburban Chicago. We learned that one of his department personnel, a young and aspiring firefighter/paramedic, tragically passed-away during a training exercise.
A line of duty death is a devastating experience for public servants. Word of any LODD immediately initiates an elaborate series of communications to partner agencies and requires complex planning for a memorial tribute. The deceased's young age, military experience and community impact quickly gained attention from individuals and agencies across the Midwest – and across the country. Greater awareness translated to a larger consortium of personnel wanting to pay their respects. In turn, that awareness demanded extraordinary planning to create a dignified opportunity for social mourning while simultaneously mitigating chances for a superspreader event.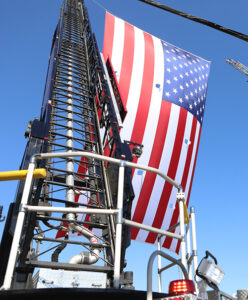 The chief was in charge of the funeral services, among a myriad of other responsibilities, so our team quickly volunteered to support additional planning and execution efforts. We traveled to the suburbs, met with the agency in charge and quickly recognized the scale of what was needed in two days time.
Expected crowds required the service be moved to a neighboring city – one with a larger funeral home footprint and an adjoining, two-acre grass field for overflow parking. Our team worked with funeral staff to restrict the indoor memorial to immediate family and select fire personnel. The service was then simultaneously live-streamed to a large video screen in the parking lot to minimize contact, and broadcast on an FM frequency for direct media feed.
Event staff designed a traffic flow pattern, positioned several hundred fire apparatus and managed the public parking process, ensuring all guests were educated on the event protocols and appropriately stationed for the final procession. Pre-staged chairs, safety protocol signage, extra face coverings, portable restrooms and refreshments were provided to ensure outdoor guests' needs were met.
In the end, the experience was absolutely humbling. Our efforts provided a dignified ritual for 500+ attendees, and relieved the undertaking from those closest to the departed. Direct communication with the agency in charge allowed for a seamless program among event staff, funeral home personnel, vendors, family and visitors. We seemed to have successfully produced our first, mass-scale funeral.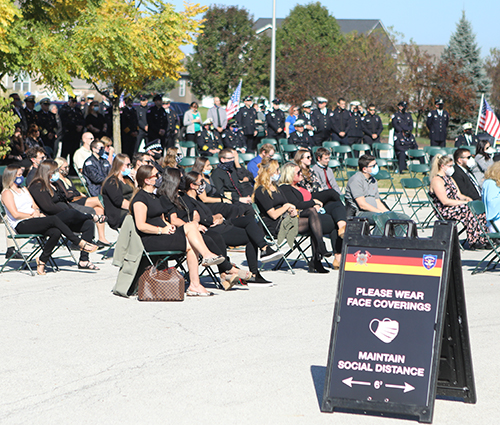 Our team reflected on the day over a post-event beer. Many of us had never been part of something so powerful: hundreds of fire fighters standing at attention, the somber sound of bag pipers, dozens of fire trucks leading a mile-long procession. It was surreal. It was heartbreaking. It was beautiful.
We asked ourselves, "should this event have happened?"
On a more despairing level, we also recognized the potential conflict around what just happened. Regardless of so many safety protocols, we managed a large-scale funeral during a pandemic — something so many families were unable to do themselves. We asked ourselves, "should this event have happened?"
After some discussion, we recognized the answer was simply, yes.
First, as we learned earlier this summer, we knew that producing safe events during a pandemic is possible – although not always allowed by order. We came into this project with that understanding, and with thick skin. We knew to expect critics, regardless of the depth of safety initiatives. Today's event personnel operate in a gray area. More than ever, they need to be sensitive and vulnerable to the views of outsiders while remaining confident and focused on the participant experience. Our team exuded grace on that front.
Second, this was no typical event because this was no typical audience. Sure, fire fighters and first responders are subject to anti-infection procedures like the rest of us, but they simply cannot operate under the same gathering restrictions and spacing mandates facing society. The very nature of a first responder's role is to work together, often in mass, to protect the public on a daily basis. We extended those operational parameters to create an environment of safe, social mourning that allowed for the continuation of fire department rituals. The funeral was a function of the fire service. It was not a civilian matter.
The "could it happen?" and "should it happen?" queries are something society will struggle with for quite some time, especially when quick optics easily fan social media flames. Event personnel need to be confident in their involvement, and ready to justify it if/when necessary.
Addressing those same questions also helped us to realize our own lessons in this story. As the pandemic drags-on, and business remains slow in the face-to-face environment, we find ourselves reflecting on, and grateful for, three things:
to have a little more time to reflect on exactly why we do what we do
to have a skillset that's transferable into so many unfamiliar outlets
to have the ability to provide meaningful support back into our community
In a very turbulent year, a single phone call challenged us to be better people and to build a better business. We apply those lessons as we step into the new year and confidently embrace the (sometimes uncomfortable) creation of more face-to-face environments.

#Events #ExperientialMarketing #F2F #IRL